By: Express Web Desk | New Delhi |
Updated: February 1, 2017 9:23 am
Former Minister of State for External Affairs E. Ahamed with the then deputy Foreign Minister of Tunisia Hedi ben Abbes (PTI Photo)
Former Union Minister and Indian Union Muslim League (IUML) leader MP E Ahamed passed away early Wednesday after he suffered a cardiac arrest. He was 78. The political stalwart from Kerala was admitted to the Ram Manohar Lohia (RML) Hospital after he collapsed during the President's address in Parliament on Tuesday.
A senior RML doctor was quoted as saying by PTI that Ahamed breathed his last at 2:15 am. His mortal remains will be kept at his official residence in Delhi for public homage till noon and will then be taken to Kozhikode by a special aircraft by 2 pm. Subsequently, his body will be taken to Haj House at Karipur before taking it to League House in Kozhikode. The cremation ceremony will be held in Kannur on Thursday.
Ahamed, who represented Malappuram constituency in Kerala, was elected to Lok Sabha for four consecutive terms starting 1991. He then served as the Minister of State for External Affairs from May 2004 to May 2009. He was Minister of State for Railways between May 2009 and January 2011. He assumed charge again as Minister of State of External Affairs in January 2011 and assumed the additional charge as Minister of State for Human Resource Development on July 2011.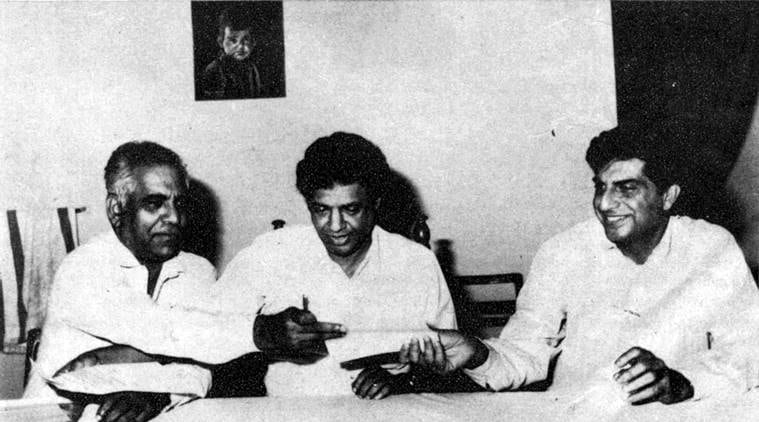 Industrialist Ratan Tata, Chairman of Tata Industries and KPP Nambiar exchanging Memorandum of Understanding signed by them to start a factory in the joint sector for the manufacture of telecommunication equipment in Kerala in the presence of Kerala Industries Minister E Ahamed in Trivandrum. (Express archive photo)
Having been a member of Lok Sabha for more than 25 years, Ahamed played a pivotal role in India's diplomatic relations with the Arab countries. Besides facilitating the annual pilgrimage from India, he had also enjoyed cordial relations with most of the rulers of West Asian nations. Ahamed had the distinction of being among the few world leaders to be invited to the ritualistic washing of the Kaaba in Mecca during the Haj pilgrimage.
During his early days in politics, he was elected to the Kerala Legislative Assembly in 1967, 1977, 1980, 1982 and 1987. He served as Cabinet Minister for Industries, Government of Kerala from 1982 to 1987. He was also the founding chairman of the Kerala State Rural Development Board from 1971 to 1977.
Before foraying into politics, he worked as a reporter for Chandrinka, a regional newspaper. Until his death, he was the executive director of the daily. Before making his debut into the Kerala legislative assembly in 1967, he practiced law in the district court in Thalassery and the Kerala High Court in Kochi.
He had also represented India in the United Nations multiple times between 1991 and 2014. He has authored three books in English and Malayalam. Ahamed is survived by daughter Dr Fousia Shershad and sons Ahamed Raeez and Nazeer Ahamed. His wife Suhara died in a car accident in 1999.
Get the latest news delivered to your inbox
Follow us on social media networks