Written by Shruti Dhapola |
Published:February 1, 2017 12:55 pm
Apple Q1, 2017 results: Apple shipped over 78.2 million units of its iPhones, much more than the 45.5 million shipped in the previous quarter
Apple announced its Q1, 2017 results on January 31, 2017, and the company has beaten Wall Street expectation with its numbers as iPhone sales rebounded. Apple is once again the world's leading smartphone maker, a first in five years, and it easily beat Samsung's shipments for the holiday quarter. Apple posted a quarterly revenue of $78.4 billion, and a profit of almost $18 billion.
In terms of number of units sold, Apple shipped over 78.2 million units of its iPhones, much more than the 45.5 million shipped in the previous quarter (Q4, 2016). Apple had shipped around 74.7 million iPhones in Q1, 2016, so the latest results mark a yearly jump as well. Apple's iPad shipments stood at around 13 million, which marks a quarterly rise, but on an yearly basis the product's sales continue to fall. Apple had shipped around 16.1 million iPads in the Q1 last year.
Watch all our videos from Express Technology
Apple Mac saw 5.3 million units being shipped, which was a one per cent rise on an yearly basis, though revenue from the Mac increased by seven per cent. However, Tim Cook admitted the new MacBook Pro supply had been constrained all through the December quarter.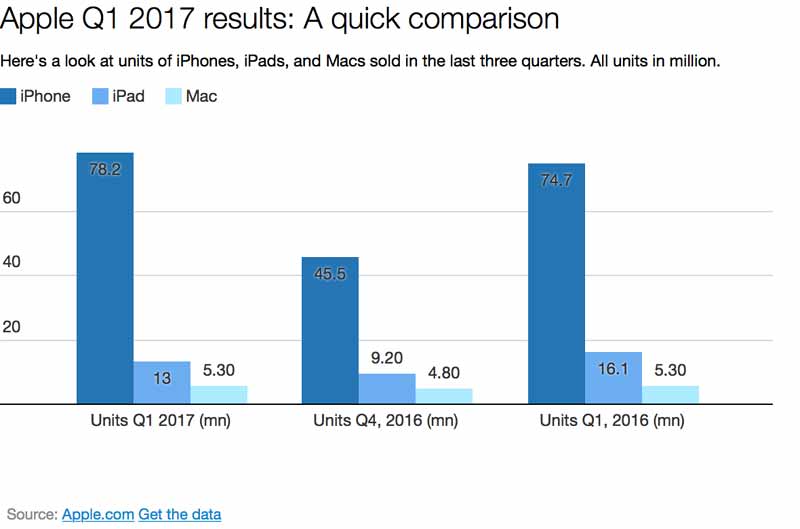 Apple Q1 results for 2017, compared against Q4, 2016, and Q1 2017. (Chart made via Datawrapper)
Here are the highlights from Apple's Q1 2017 results from Tim Cook's earnings call:
Boom in Services
In the investor call, Apple CEO Tim Cook said the company saw "all-time revenue records for Services and Mac." Revenue from services stood at $7.2 billion with App Store seeing over $3 billion in revenue in the month of December alone. Services saw a double digit 18 per cent yearly growth, according to the numbers released by Apple.
Tim Cook says 'Services' are becoming an integral part of Apple's business. The company has over 150 million paid customer subscriptions, which includes third-party content as well. Apple wants to double the size of this business in the next four years.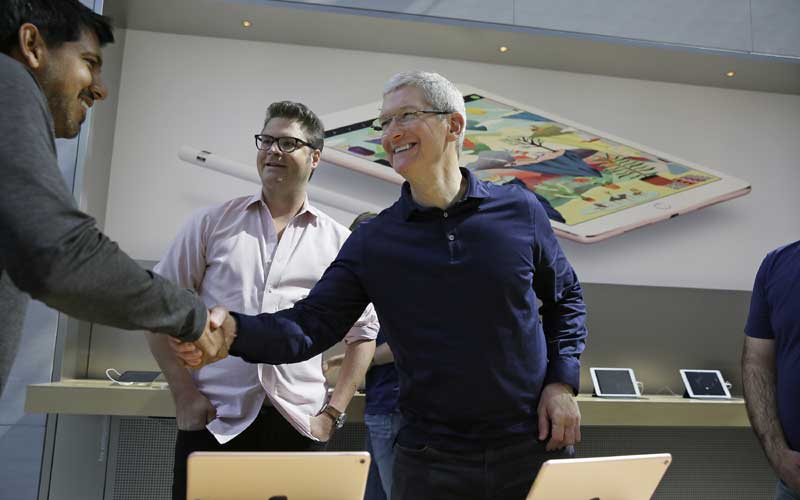 Apple CEO Tim Cook said they saw a boom in services. (Source: Reuters)
No numbers on Apple Watch
Apple Watch might be on Series 2, but the company has not yet officially released any sale numbers for these. Based on the data break for products, Apple's revenue from 'Other Products' stood at around $4 billion, which is a negative growth of eight per cent over the last year.
All Tim Cook said in his comments was that it was their best quarter ever for Apple Watch in terms of units sold and revenue. He added they had a strong holiday demand, though he didn't list a specific number for the Apple Watch. Once again, Cook reiterated the Apple Watch is the best selling smartwatch in the world.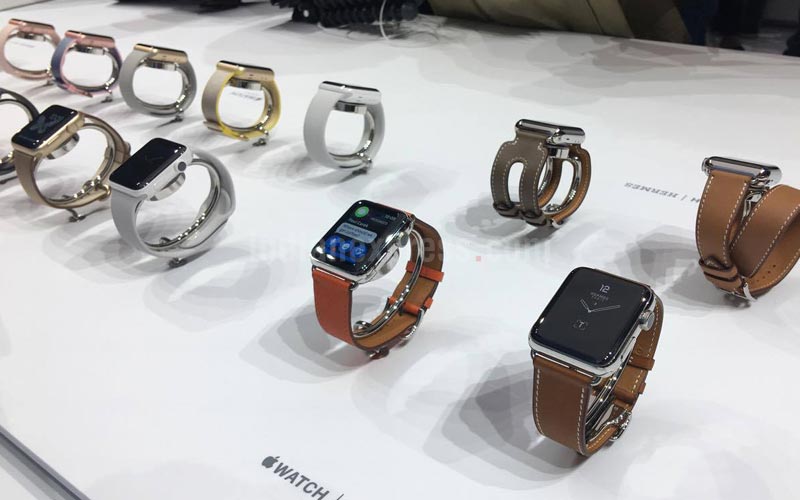 Apple Watch sales: The company has not given any specific numbers.
Apple Pay
Apple Pay saw its number of users triple with Tim Cook saying the transaction volume was up over 500% year-over-year. According to the Apple CEO, "nearly two million small businesses are accepting invoice payments with Apple Pay."
Also read: Apple Q1 results: Tim Cook lauds demonetisation as great move
CarPlay
Tim Cook said, "Every major automaker is committed to supporting CarPlay with over 200 different models announced, including five of the top 10 selling models in the United States." Over 1 million people are using CarPlay now, according to the company.
Growth in India, China
While Apple's revenue in Greater China was down by 12 per cent, revenue in Mainland China grew. However, Cupertino says it was negatively impacted by the constant currency fluctuations. Apple says it is seeing strong growth rates in countries like Brazil, India, Turkey, and Russia.
It also reported double-digit unit growth in Mainland China and India. In India, Mac sales saw double digit growth thanks to expansion of distribution channels, and first-time buyers.
Apple says it saw growth in India, including with Macs.
On India, Tim Cook lauded the demonetistion move, saying they did well despite this. "The demonetization impact has not worked its way through yet. It's still definitely having some overhang," he said.
Apple confirmed it is in talks in India "on a number of things, including retail stores." However, there was no word of manufacturing in India, as has been reported by the media here.
Original content
Apple CEO Tim Cook also confirmed they are looking at some original content for Apple Music, which will be coming through the year. "We're learning a lot about the original content business and thinking about ways that we could play at that," said Cook, without giving too many details.
Finally the upcoming iPhone
Of course, Tim Cook was asked about future enhancements for the iPhone, and whether there will be changes to material, form factor, etc. While Cook didn't given any details (which is not surprising), he said the smartphone is still in the "early innings", and there's a lot more to do on the front.
© The Indian Express Online Media Pvt Ltd
Get the latest news delivered to your inbox
Follow us on social media networks